When considering a bathroom remodel, choosing the right tile can make all the difference in the overall appearance of the area. The size of the bathroom space also needs to be taken into consideration as the tile chosen can either give the appearance of a larger space or actually make the space seem smaller. Mosaic tiles are a great way to add visual interest and character to any bathroom. These small, colorful tiles can be used in a variety of ways to create a unique and stylish space.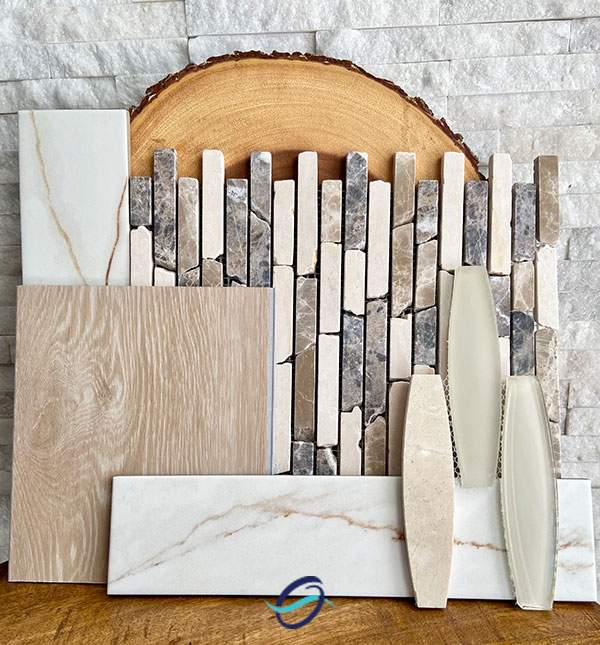 We've really enjoyed providing some design ideas here to help you incorporate mosaic tiles into your bathroom design.
Neutral Color Palette with Textured Mosaic Tiles: Design a spa-like ambience in your bathroom by featuring a neutral color palette and incorporating different textures of mosaic tiles. This will add depth and interest to the space without cluttering and overwhelming it.
Colorful Feature Or Accent Wall: Choose colorful, patterned mosaic tiles to create a feature wall in your bathroom. An instant pop of visual interest will be added and will help define the space.
Cohesive Look In Areas: Use mosaic tiles on both the walls and floor to combine a cohesive touch in the bathroom. This will connect the entire space and give it a polished, finished look.
Glass Mosaic Tiles: The beauty of glass mosaic tiles is the mood they set for a sleek and modern look. These tiles reflect light and provide the bathroom with a bright, open feel.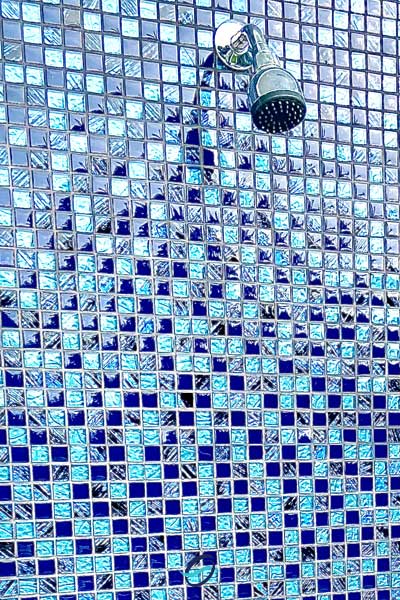 Different Sized Tiles Mixed Together: Create a mix of different sized mosaic tiles to present a striking and unique design. This will add visual interest and make the space feel more interesting and engaging.
Shower Walls: An area that allows a play of tiles can easily incorporate mosaic tiles for a fresh and stylish design. Mosaic tiles will create a focal point in the bathroom and allow the shower space to be a work of art.
Backsplash Accent Wall: The vanity area is one that should have its own appearance as well. Create a mosaic tile accent wall behind the vanity for the focus of attention in your bathroom area. This will help to define the space and protect the wall area from water damage.
Border: There's no perfect design for a border such as using mosaic tiles. Add a mosaic tile border to chair rail height to give the room some depth, or at the top of a bathroom wall for an elegant touch. Adding this detail to any bathroom will add a classic touch and a finished look.
Minimalist Design: Incorporate mosaic tiles in a neutral color palette to create a minimalist and clean look. This will give the bathroom a modern, uncluttered feel. Who doesn't love a minimalistic, clutter-free setting?
Luxurious Patterns: The encompassing of elaborate and intricate mosaic tile patterns within a bathroom radiate a touch of elegance and luxury. Installing these type of patterns create a visual interest in a bathroom like no other.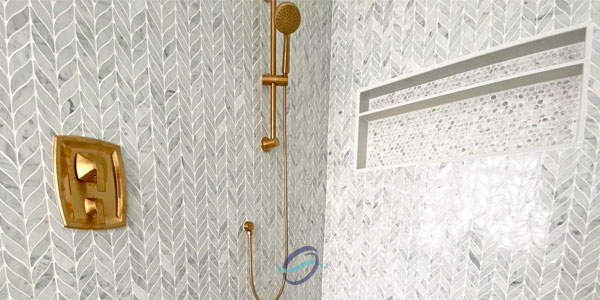 Whether working with a large or small bathroom, mosaic tiles are a great way to incorporate unique design elements in such a special place. These small, colorful tiles can be used in a variety of ways to create a unique and stylish space. Whether you're looking to create a Zen room, spa-like atmosphere or a modern and minimalistic look, Ocean Mosaics' mosaic tiles can help you achieve your desired design.