A beautiful kitchen is not built around just the appliances, but, the overall color scheme as well. Instead of using grey as an accompanying color, designers and homeowners are lately allowing grey to be a dominant hue in kitchen design planning. The timeless appeal of a beautiful white and grey kitchen is the perfect timeless union. Starting with a white palette is simple but imagine featuring grey as the hero color. Such a color is easily adaptable to diverse styles, introducing the popular term, "modern farmhouse".

What Shade of Grey Should I Choose

Grey and white kitchens have been in style for a while and it goes without saying that they deliver an elegant style with minimal effort. Some may consider grey a dull color, however, when used correctly this color can showcase the trendiest kitchens. From classic, light grey to bold, deep grey hues, there is a grey for every kitchen. It may not be that obvious to the naked eye, but grey is actually in more areas than you think in your home.
Warm Grey - These grey tend to lean toward the yellow undertones and work well with areas that have cooler tones.
Cool Grey - This grey consists of more of blue or green undertones. If the area has more of a warm color tone, the cool grey will appear a lot more blue.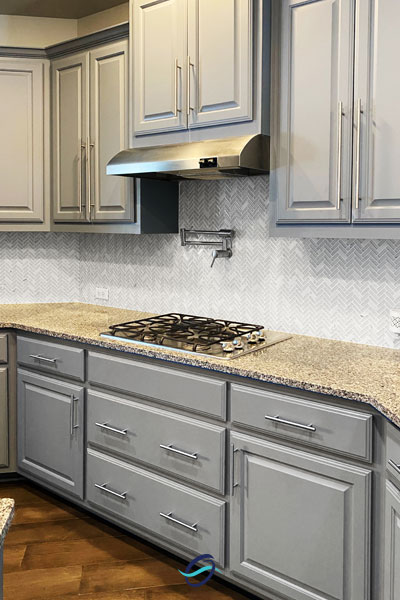 Why White Works So Well With Grey

Now let's throw in the color white and the perfect union of colors is formed. White kitchens can tend to look somewhat plain and all grey kitchens can give off a dull, lack luster vibe, but It's the mix of the two colors that make them attractive and appealing.
Grey cabinets with a stunning white backsplash create the perfect kitchen backdrop, whereas white cabinets with a grey inspired backsplash add depth to a kitchen. The beauty of grey is its ability to blend into almost any decor. Warm or cool, grey will always be the winning compliment to white.

A grey and white kitchen can make a space look larger, as the two colors will have less sharp contrasts than kitchens that use more obvious colors.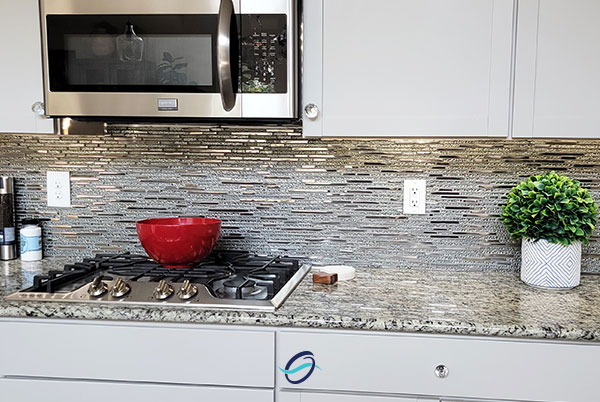 Use of Grey and White To Create The Perfect Kitchen

Here comes the fun part. What space are you working with and what style have you settled on?
A long, narrow space - keep the cabinets white and introduce grey as an accent on the backsplash or accessories. Subtle grey flooring will tie the area together nicely.
A wide, open space - dark grey cabinets with a white backsplash and white countertop will provide a modern kitchen setting. Experimenting with bold, contrasting flooring can add a nice combination to the other bold color directly above it.

Don't forget the same concept works for the color grey you choose. Light grey will add a warm vibe while darker grey allows a bold, statuesque feel.
Both colors have a neutral tone which makes it perfect as a base color. Used together, they give off a very relaxing vibe, a great starting point to build upon. It's the reason why they work so well in a modern kitchen setting.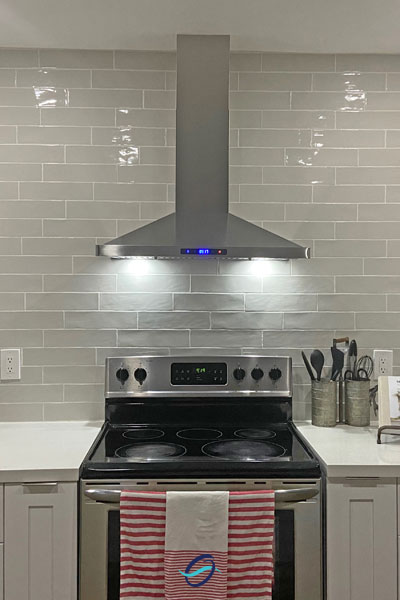 Choosing The Right Tile

After settling on a grey and white color palette, choosing the right mosaic tile backsplash material can really make a difference. For example, a white glass mosaic tile can break up a bold countertop and cabinets. White subway tile gives the illusion of a wider space. Grey marble mosaic tile can draw the focus to the classy cabinets, and also add a level of elegance to the kitchen.
If the countertop is neutral, it allows you to chose a backsplash that has some pop, adding a nice contrast. The same principle applies to the color of the countertop. The kitchen countertop or other top surface color should also contrast nicely with both cabinets and backsplash. For example, if your base cabinetry is grey, consider a white countertop. This adds a nice contrast that breaks up the darker block of color.

Whether your kitchen design will revolve around modern farmhouse, contemporary, traditional or chic modern, grey and white are the perfect union of color.