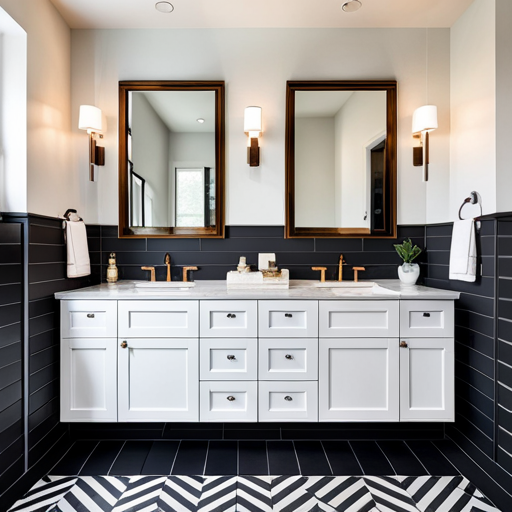 Exploring the Latest Bathroom Tile Trends: A Comprehensive Guide
Are you looking to give your bathroom a fresh new look? Bathroom tiles can instantly transform the appearance of any space, and keeping up with the latest trends can help you create a modern and stylish sanctuary. In this comprehensive guide, we will delve into the hottest bathroom tile trends that can elevate the overall aesthetic of your bathroom.
1. Subway Tiles with a Twist
Subway tiles have been a classic choice for bathrooms for years, but lately, we have seen a twist on this timeless design. Instead of traditional white subway tiles, homeowners are opting for colored or patterned versions. Colors like soft blues, pale pinks, and even earthy neutrals are popular choices. Another twist on the classic is opting for subway tiles in different sizes to create a unique and eye-catching pattern.
2. Statement Floors
Gone are the days of plain bathroom floors. This year, statement floors are all the rage. You can achieve this look by choosing bold, graphic tiles that instantly draw attention. Moroccan-inspired patterns, geometric designs, and colorful encaustic tiles are popular options. By adding a statement floor, you can create a focal point in your bathroom and elevate the overall design.
3. Nature-Inspired Tiles
Bringing elements of nature into your bathroom can create a serene and tranquil atmosphere. Natural stone tiles with beautiful patterns and textures, such as marble, travertine, or slate, are great choices. Additionally, wood-look tiles that mimic the appearance of hardwood floors can add warmth and a natural touch to your space. These nature-inspired tiles can create a luxurious and spa-like ambiance in your bathroom.
4. Large Format Tiles
Large format tiles are gaining popularity in bathrooms as they can create a seamless and modern look. Instead of using small tiles, opting for larger tiles can minimize grout lines and create a sleek appearance. Larger tiles also make a small space appear larger, so if you have a compact bathroom, this trend is perfect for you. Consider using large format tiles in neutral tones for a clean and contemporary feel.
5. Textured Tiles
If you want to add depth and interest to your bathroom, textured tiles are the way to go. Tiles with three-dimensional patterns, embossed designs, or textured surfaces can add a unique and artistic touch. These tiles not only look visually appealing but also provide a tactile experience. By incorporating textured tiles into your bathroom, you can create a sophisticated and visually captivating space.
In conclusion, keeping up with the latest bathroom tile trends can help you create a stylish and modern sanctuary. From subway tiles with a twist to statement floors and nature-inspired designs, there are plenty of options to explore. Consider incorporating these trends into your bathroom remodeling project to transform your space. Remember, at Shop Ocean Mosaics Tiles, we offer a wide range of mosaic tiles, including bathroom tiles, with free shipping and quick order fulfillment. Start exploring the latest bathroom tile trends today and transform your bathroom into a stunning oasis.