Every so often a new trend sets the tone in design that really lights up the interior decorating scene and inspires interior designer and homeowners. Moroccan arabesque style is that new modern trend in mosaic tiles! Born out of the culture of Morocco, it takes its roots from Moroccan and Moorish architecture. It is a timeless, bold and elegant décor. Known as biomorphic art, it is a distinct discipline that encompasses three elements.
The Infinite Spiral
There are no hard corners in the arabesque tile pattern. Behind most design, there is a spiral from which leaves and the motif sprout. Nature's movement inspires the endless flow of the spiral and the spiral grows it radiates small spirals in a continuous pattern.
Structure and Symmetry
The Moroccan arabesque tile pattern is one that depicts perfection and a complete, harmonious design. Symmetry if key to creating a unified arabesque tile pattern.
Balance and Movement
In the Arabesque tile pattern, no part of the design takes precedence and overpowers the foreground. Design is cleverly thought out and the effect is created by the repetition and uniformed arrangement of the motifs.

Most Moroccan homes are truly interesting as they most times feature a simple, plain exterior, but overly ornate interiors. It can be said that this tradition is a way for Moroccans to reserve the intimacy of their homes for loved ones and friends. Traditional colors in Moroccan design can be bold, beautiful and rich, while the modernized version is lighter and warmer. Furniture is simple and understated but elaborate throw pillows and accessories, made from luxurious fabrics are key to completing a Moroccan room.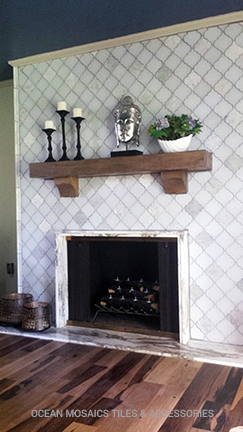 Don't be afraid to incorporate an arabesque mosaic tile into your home remodeling project. The Clover Arabesque Blanco glass tile is an excellent option and allows you to achieve that Moroccan look by adding a touch of elegance and charm. This classic example is used on a fireplace surround and features white glass tile mixed with natural carrara marble. Teardrop mosaic tiles can also add a touch of charm into your Moroccan arabesque décor and can be elegantly used for walls, backsplashes, fireplace surrounds and floors.