After tons of online browsing and a group of tile samples spread out over your dining table, you're finally ready to narrow in on your favorite tile swatch for your kitchen backsplash. You're thinking you've got the hardest part done but really one key part that goes hand-in-hand with choosing the backsplash tile is — the grout. You may be thinking the tile is the hero, and the grout is just a last detail but grout plays a much larger role than you think.
Not only does grout complete and hold the tile pattern together, but selecting the right tile grout can help reinforce the tile installation and prevent damage like cracking.
Before you discuss your final selection with your contractor or designer here are some different types of grout and what impact they have on the appearance of your project.


Tile Grout Color Choices
The choice is yours on how much of a focal point you want your installed tile to have. In choosing the tile grout color, here are a few factors to consider.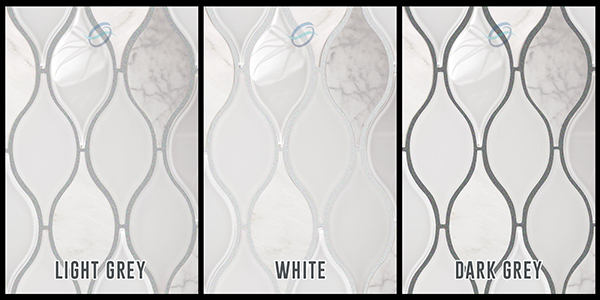 Matching Grout To The Tile
Creating a seamless pattern on your backsplash is simple. Select a grout that matches the color of the tile and naturally blends in to the color palette of the tile. If the tile has more than one color, pick up the color that is visible the most.
Adding Contrast To The Tile Pattern
There are a few ways to allow the tile be the focal point:
1. Select a grout color with strong contrast.
2. Consider having the tile installed with thicker grout lines.
3. If you are looking to add a touch of elegance to your tile consider a premium grout such as Bostik's Dimension line of products. These grouts are mixed with reflective glass beads that add a sparkle to you finished installation without overpowering the natural beauty of your tile.


Tips For Choosing Grout
While grout can be chosen from color charts, it is recommended when selecting a contrasting color to test it on some material, let it dry and view it in the room or backsplash area you are remodeling. Be sure to turn on any lighting to see how the grout looks.
If you're not sold on a grout color, after testing it, allow a few days to dry and cure before settling on your choice.
White or neutral colored grouts provide a clean, seamless look. The lighter the grout, the easier it is to see stains and dirt.
Darker grouts can mask dirt and imperfections, however when exposed to direct sunlight can tend to fade.
We recommend sealing your grout in high traffic areas, to help protect the color and also to prevent mold or mildew in wet areas.



Grout Options
When selecting a professional for you tile installation project, it is key that they consider what grout is best.
If tile joints that are less than 1/8" wide - it is best to use unsanded grout.
If tile joints that are wider than 1/8" wide - it is recommended to use sanded grout. This type of grout will bind the tiles together better and alleviate cracking.
Any area that is constantly exposed to water, (pools, showers, waterscapes) tiles should be installed using epoxy grout. Epoxy grout is waterproof and will help the durability of the tile.

IMPORTANT: Grout haze will occur when grout residue from the installation dries on the surface of the tile and grout. It is important to remove immediately after grout has cured. A final tip for the homeowner is to take note of the grout color you choose for any future repairs and check expiration date before reusing.
Cheers to developing a project you'll be proud of for years to come.