Mosaic Tile Backsplash – The Choice is Simple
Using mosaic tile on a backsplash design is a popular choice for anyone interested in adding visible excitement to a kitchen or bathroom. These backsplashes can be made of many materials such as glass, porcelain, stone, metal, recycled glass and are adhered to a mesh backing which make it easy for installation. We all know the many patterns that are available in the tile design world make the possibilities endless and allow us to get creative by mixing and matching different patterns and materials.
One of the great benefits of having a kitchen tile backsplash is not only is it visually pleasing to the eye, but it protects walls from unpleasant splatter and especially in the kitchen – food particles, grease and grime. Keeping a backsplash clean is not a tedious job and most can be wiped clean easily with water or if necessary a cleaning liquid or spray.
Making a backsplash tailored and personalized to your home décor taste is a fun task as our wide variety of mosaic tiles can help make the choice easy. If you've already decided that mosaic tile is the way you want to go, the next step will be to decide how much tile you will need.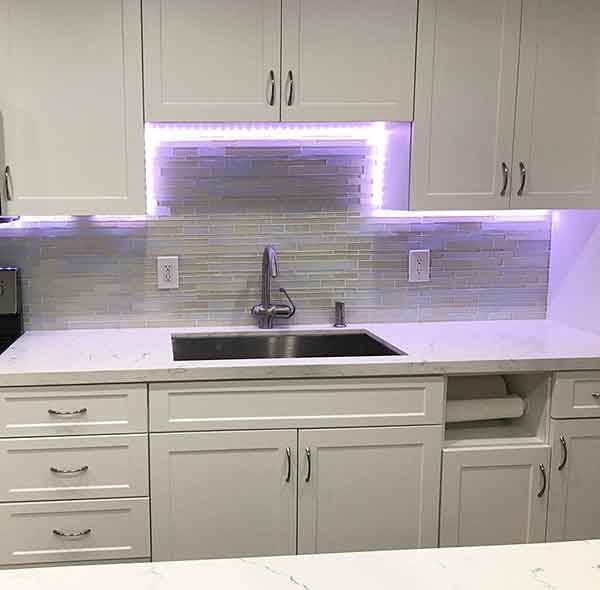 Here We'll Provide Some Easy Tips to Install a Backsplash
1. Whatever backing you use - whether it's cement board, sheetrock or green board, it must be firmly attached to the studs behind the backing.
2. Use a flat trowel to thin-set the entire area that the tile will be applied to. This allows a strong cement bond coat for installing, especially to sheetrock.
3. You always want to work from the bottom up on any wall tile installation. Be sure to use a lite technology thin-set such as Pro-Lite® or 255 Multimax by Laticrete to avoid sagging.
4. Lay your first row of tile, making sure to leave at least a 1/16 to 1/8″ space directly above the countertop to ensure a proper caulking joint between the tile and countertop. After laying your first tile row, you're ready to start working up the backsplash wall.
5. We recommended you lay the backsplash tile in a stair step type pattern to ensure that you stay square with all joints as you go up the backsplash wall. Using tile spacers where 4 corners of the tiles meet (in the joint) is a must as this will allow you to have uniformed joint spacing, and will not allow the tiles to sag.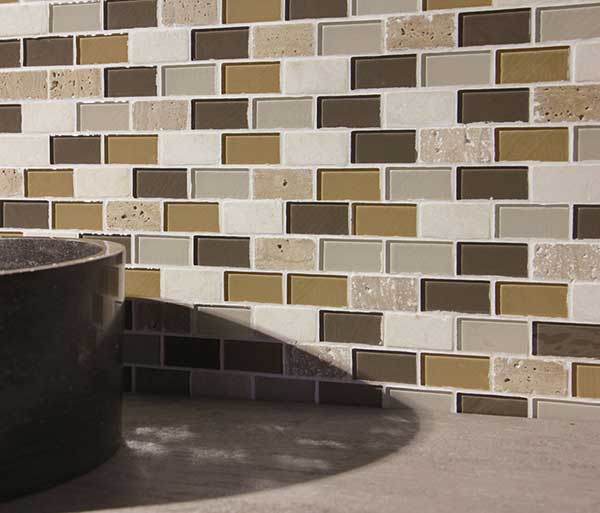 6. Continue to install tile until you reach the desired height. It's best to let the installed tile sit for 24 hours or at least 12-15 hours. It's necessary to ensure that the thin-set has dried completely. This will guarantee that your tiles will not move or displace during the grouting process.
7. Here comes the fun part! It's now time to grout the tile backsplash. You must wash and clean the tiles and grout lines to get proper adhesion of the grout. Here's a quick guide for easy grouting your backsplash tile.
Once you've finished grouting step back and enjoy your work. You deserve it!